The Story Behind the Songs ...
A lot of life's experience, friends, moments and locations make up Mike Wells' first album. Stories from a young man's perspective to a middle-age wisdom.
Mike's music is a product of his life, his family and friends. Read more about the influences that brought, "If You've Got An Itch, Scratch It" alive.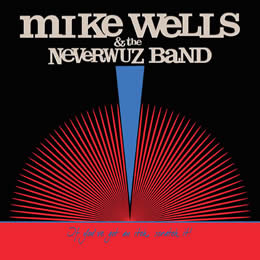 TODAY – this song was written while living in a 4 room cabin on Lake Monroe, near Bloomington, IN my last year of college at Indiana University….no running water, a wood-burning stove, 2 dogs and my roommate, Dan.
Had just read a book by Babba Ram Das, formerly Richard Alpert (of Timothy Leary fame) called "Be Here Now". His words helped me focus on the importance of each day we are given. The B-3 organ with the strong electric guitar jangling away reminds of the message of these words.
BROWN COUNTY LIVIN' – after college, I moved to the East Coast, hooked up with a small acoustic band, Harpo & Slapshot, and lived on Beach Plum Rd near Point Judith Lighthouse in Rhode Island….Lots of gigging in Boston, Providence, Newport, Jamestown, etc.
This was written out of longing for familiar times and friends back in Brown County, IN. In Rhode Island I didn't know really anyone, and definitely had no roots. Music is a real salve for loneliness. The background harmonies that John McDowell delivered on this song set the mood for those times.

John McDowell
EVERYTIME – my wife always asked me if I'd written a song for her…and I always had to answer: "NO! Not yet". There were a number of years when I didn't write any lyrics….as I was focused on my business career, kids, etc.
However, I kept playing guitar, singing on my own and gigging occasionally in a garage band, Vince and the Wimps. When I started writing again, I had to remedy the void …. The song speaks for itself.
FOR ALL TIME – this was also written when I lived on Lake Monroe. It's amazing how an intense romantic encounter can create inspiration; happy, sad, or ethereal, if you let it. It can even create fantasies and visions that don't really apply to the specific situation but to the general condition.
I explained that mood to the musicians – a walk "around the Lake – in the woods – ground fog lifting – very much in solitude – 'lost' in your own thoughts". The flute and piano were special in creating the mood, and the percussion effects with the underlying & lilting bass impresses me every time I listen. Notice the backwash of the synthesizers? Hear the Tinker-bell at the end?
GONNA BE A GOOD DAY TODAY – very interesting song in its development. The music, beat and title line came out one day when I picked up my Martin to play around. The lead line came right away. I laid down the structure with only the main line and thought that this could be a good up-tempo start to a day.
We recorded all the music with the rock-a-billy feel, but virtually no lyrics … just the main line and my scat singing the melody. I had to write the final lyrics the day before the vocal track was laid down…making it fit the already recorded music ... another approach to song creation!

The Never Wuz Band at the Lodge Studio
IF YOU'VE GOT AN ITCH, SCRATCH IT! – I had come up with the name for a CD long before it was recorded. When I started writing again, I had been encouraged by my friend and producer, Michael Clark, to put the songs together. The whole concept in my mind was to fulfill the 'itch' that was inside. Since this was the title of the CD, I had to write a song for the title…in essence, this was the inspiration for the CD.
I have always liked funky music … and the rhythm came first. I also wanted to create a song with a more contemporary sound in the style my kids were listening to while incorporating a message for them as well. The lyrics came over several months of my subconscious working from the title … and writing scrap notes of lines around the theme … then assembling them together into the final song. I really appreciate all that the band members contributed and we had some fun with the effects in the mixing of the final cut.
LET'S GO HOME – originally written for a band I was in called (and I'm not kidding) Harpo & Slapshot. As the first line suggests, this was a very formative period with my course changing rapidly….far away from home. Michael did a wonderful job with the flat-picking bluegrass style lead….and how about the accordian and harmonica influences in the overall sound.

PJ & Jay Wailing

LET'S GO SEARCHIN' – this was an anniversary present for my wife. I wanted to commemorate the time we've spent together and the journey we've had. I was sitting in my study playing the underlying chord progression and saw Tom Friedman's book, 'The World is Flat' on the floor. That created the first line and then the lyrics just flowed.
I also wrote it to have a BIG sound bursting with the energy of a crackling horn section. I love that Big Band sound: the Buckinghams, Blood Sweat & Tears, Chicago, Stax/Atlantic and, of course, Phil Spector's patented Wall of Sound . This song was influenced by all of that. I really enjoy how the marriage of the surf guitar echoes of Michael mixes with the horns' riffs during the instrumental break….how about that chugging baritone sax?!
SEAWIND – this is one of my daughter's favorite songs on the CD. It was written after an evening beach walk near Point Judith Lighthouse with a lady who really touched me at the time. Troye Kinnett's piano and Michael's guitar make this song one of my favorites as well.
The vocal harmonies of the uber-talented John McDowell are even better than I originally envisioned.

Troye Kinnett - Keyboardus Maximus
SITTIN' HERE, WONDERIN' AWAY – my tribute to lounge singers. This resulted from a chord progression I'd been carrying around for a long time. The CD project forced me to finalize the bridge and write lyrics. Was just sittin' there wonderin what the hell to write about! So, a sidewalk café came to mind … where you're sittin' there daydreaming on a sunny day….and the rest just flowed. Troye's piano and PJ's muted trumpet take me to another time and style.
The ending that PJ came up with inspired a different laid back vocal approach for me … I imagined what it was like to be Vic Damone, Tony Bennett, Frank Sinatra … the Kings of this style. I guess I was sittin' in that sun for too long!

Tranquil Fishkill
SONG OF A SINGER – the great thing about acoustic music is that it can be played anywhere. After college, I worked with inner city kids from NY City at a camp near Fishkill, NY. (NY Times "Give Summer to a Child" Program) The camp counselors all would get together in the evenings on their nights off for liquid refreshment/libations, laughs and almost always music. Seems there were a lot of counselors who played an instrument or sang.
It was during that summer that I met Becky Hofer, a preacher's daughter from Iowa, who was a camp counselor at the girl's camp across the lake. Boy! Could she sing (and she played the guitar as well) Needless to say, I spent many days and evenings enjoying the company of Becky and the others who liked to make music.
Good Times! Troye's haunting mountain dulcimer sound creates the mood for acoustic mountain music.

THEY WERE SMILIN' – True Story. While I think the song speaks for itself, it has to do with the day I sat down, picked up the paper that fell open to the obituary page. There I saw the picture of my friend, Kevin Rembusch, who had died the day before. It was the first real 'life-long' friend that passed away before me.
As happens when we get older, I had somewhat lost touch with Kevin and didn't even know he had been sick for some time. I couldn't shake the experience so this song helped create a pathway to find closure….but in the end, we don't get out of here alive. Kevin did live a full and robust life … and, as I remember him, he was smilin'. This song celebrates that man and his smile.


Steve Dokken - Man with the Bass
TO YOU MY FRIEND – "Bob Marley with Horns" was how Stan Hillis described this song. This was originally written when I lived in Rhode Island playing with Harpo & Slapshot. It was a song written really as a conversation with an old friend and roommate, Scott Ehlers. I was imagining sitting in a bar, having some beers and getting into those deep conversations we've all had with a good friend about the "heavy" thoughts of life.
When I moved out East, I had no long-term friends who really knew me and I longed for that ability to let down your walls and just be yourself. I always imagined this song with Congas starting it out, and an island tempo (I loved Harry Belafonte, and the music of the Caribbean). When we were deciding which tunes would include horns, this song had intriguing possibilities…we thought it might create a little different sound. Jay Young's horn chart mixes perfectly with Michael's reggae guitar overlay and the beat of the timbales.
The punctuation of Troye's B-3 organ and Steve Dokken's Bass lines under it all – especially at the conclusion with his lead bass lines make this a fun song for me to listen to. Johnny Mac – great job...again...on the vocal harmonies!

Stan Hillis taking us to Ipanema
WHY DO I LOVE YOU – the Beach Boys meet the Girl from Ipanema! That was the vision in recording this song. This was the first complete song I ever wrote. It was a collaboration with my good friend, roommate and Fraternity brother, Denny Walsh. We wrote it late one evening after "study table" as coming of age freshmen at Indiana University, Bloomington.
I had just discovered the Major Seventh chord and loved the smooth jazzy sound of it. The Bossa Nova sound of Charlie Byrd, Astrud Gilberto and AC Jobim had made an impression on me, and the Beach Boys were heavily weighted in the music I was listening to. I came up with a chord progression, and Denny, who could really sing (lead singer of our popular fraternity jug band), and I started harmonizing and soon created the melody to go with the chords.
Sometimes you go to write the lyrics and they just come pouring out. That was the case here, a simple beach type song – nothing very deep – just very period stuff! John McDowell really enhanced the depth of this song with his background vocals and Michael's idea to double track the various background vocal parts created our very own Never Wuz "Wall of Harmonies".
How 'bout the Vox Continental sound of Troye on the keyboards, and the vibes, and that oh-so catchy tinkerbell? A cool B-3 organ and soaring flute imagines a classy bar or dinner club with martinis, manhattans, round tables and women with clinging cocktail attire engaged in the romantic quest of us all.
Our very appreciated guest flautist is Stan Hillis, noted Indianapolis Cardiologist, who used his prodigious musical talent to help pay his way through med school. We're glad he lent his talents to this song.

WAKE UP – "The Dixie Chicken meets the Strawberry Alarm Clock" is how Chris Pyle described this song. I wrote this song on my Grandfather's 42' Hatteras Sportfishing boat in Ft. Lauderdale, FL on Christmas vacation. My Dad was trying to roust me out of a very deep sleep. The words 'Wake Up!' just stayed with me, so I got out the guitar and within about 45 minutes this song was complete.
Originally, it was done acoustically with 3 voices, 2 guitars and an electric bass. The complete band ensemble for the CD allowed for expansion of the sound. Troye's electric piano really changed the dynamic and Michael's 12 string guitar effect created a signature lick. The horns really worked as well thanks to Jay and PJ. I hear so many influences of the music I heard growing up. This may be the best 'melting pot' song on the CD.
I told Michael we really needed an alarm clock to open the track. So, he found one and then Corey Miller, the sound engineer, tuned them into 3 part harmonies and panned them across the room to kick off the song. However, they'll never be as awakening as my Father was when he got me up the morning I wrote the song.
Thanks for reading and sharing an inside view on what moments in my life brought these songs to life.
(c) 2008 Mike Wells/Deer Ridge Music. All right reserved.